Great Ideas to Get You Started
When I was starting out, Low Carb recipes were hard to come by, and when I found them, they were really complicated and time consuming to prepare with dozens of ingredients. Finding a faster, simpler solution was a game changer for me and can be for you too.
My friends over at Tasteaholics have created a series of ecookbooks, in which each and every recipe can be made using only 5 ingredients. If that's not already useful, all the recipes are 5 grams of net carbs or fewer! Talk about a no-brainer.
You can choose 1 breakfast, 1 lunch and 1 dinner from their Keto in Five cookbooks and know you're under your daily carb limit for the day.
Each book contains 30 recipes all using just 5 ingredients. Every recipe is 5 grams of net carbs or fewer making them perfect for keto. Whether you're just starting your low carb journey or have been happily losing weight for a while, I'm sure you'll love these easy recipes!
I wish I had access to a resource like this when I was getting started on my low carb journey. There was a lot of hit and miss for me while searching for suitable meals to cook.
It makes it so much easier when your recipes are simple, with only a few ingredients. There's nothing worse than getting discouraged by complicated recipes before you even get started.
Here's a sneak peek of what's in the books:
Breakfast in Five
Breakfast is the most important meal of the day! Keep your carbs low and your taste buds happy with Breakfast in Five.
Enjoy pancakes, waffles, shakes, cereals and even hot pockets without breaking your carb limit!
My favourites are the Blueberry Pancakes and Chorizo Breakfast Bake. The Mini Quiches are great for breakfast on the run too.
Lunch in Five
Let's face it; lunch on low carb can get boring. Lunch in Five will serve up 30 packable recipes that will blow you away every time, like savoury French crepes, creamy chowders, and mouthwatering casseroles.
Alot of the recipes in this book could also be made for dinner if you want to expand your repertoire. I personally usually eat dinner leftovers for lunch so I use the recipes in this book for additional dinner ideas.
Dinner in Five
After a long day of work, cooking a delicious, healthy meal for your family can be a daunting task. With Dinner in Five, you'll enjoy steaks, wings, lasagna, burgers and sides without breaking your carb limit!
The Zesty Shrimp Skewers are great as a light meal in summer and I can't go past the Pork Chops in Mushroom Sauce or the Cheesy Meatballs. Delish!
Dessert in Five
Inside this book, there are so many delicious dessert recipes. You don't have to deprive your sweet tooth because you live low carb!
Enjoy chocolate soufflés, strawberry cheesecakes, brownies, coconut cream pies, raspberry Danish cookies and much more every day of the month. Living a low-carb lifestyle has never been more enjoyable and sustainable!
Buy the Bundle and SAVE
Buy the bundle of all four books, including Dessert in Five and get 40% off. Click the image below to claim the bundle.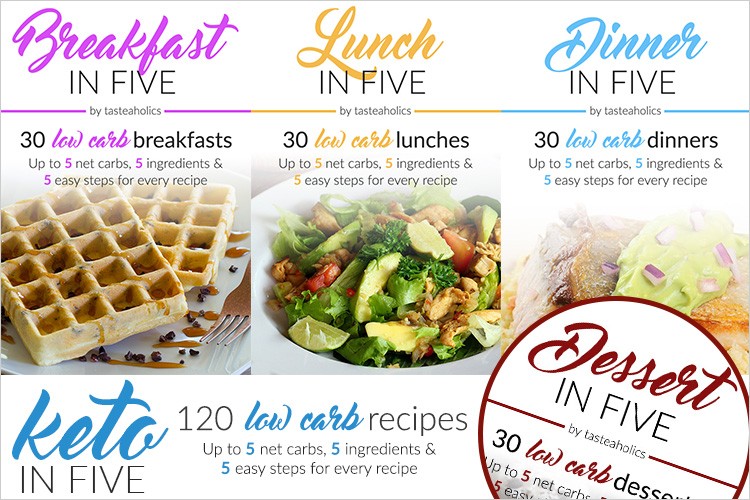 This post contains affiliate links, which means we may receive a small commission, at no cost to you, if you make a purchase through a link. Read our Disclosure