Are You Ready to Get Started with Low Carb but Don't Know What to Buy, Eat or Even How to Prepare Healthy, Fast Low Carb Meals?
If you're ready to get your health back, ditch the diets and keep you weight under control, embrace the low carb lifestyle with these great recipes.
Do you have trouble losing weight? Do you find you never have time to eat healthy food or prepare your own meals? Are you feeling tired and lethargic all the time?
Knowing that you feel like you've tried everything and nothing seems to make a difference?
You know your health is suffering because you're not looking after yourself properly.
I understand what you're going through. I had a sudden decline in my health a few years ago. It took a lot of investigation to find the cause and eventually I was diagnosed with an autoimmune condition which created a lot of inflammation in my body. My joints ached all the time, it was uncomfortable to sit or stand for long periods. And I could no longer do any weight bearing exercise.
This diagnosis led me to investigate what I could potentially do myself to reduce the inflammation and pain I was experiencing. That's when I discovered how inflammatory sugar and other carbs were on my body. I had to change my diet. Problem was, I thought I was eating quite healthy food. I cooked most of my own meals, and I didn't eat junk food. But I was consuming a lot more carbs than I thought. Did you know, sugar is everywhere?
It's so hard to avoid.
I had to make a change.
On this journey of discovery into real food, I read countless books, blog posts and articles on low carb and it seemed like everyone was getting such great results but I was still so confused about what I should be eating, what food I should be buying and how to implement low carb into my life.
It felt like it would be all too much effort. But pain is a powerful motivator, I had to try it to see if I could get some normality back and reclaim my health.
It was so hard to navigate through those changes. It was a big learning curve. I found I was getting more and more frustrated every time I read some new information.
There was an avalanche of contradictions on what to eat, and dieticians in the public eye were no help. They still say carbohydrates should be the foundation of our diet. Even though I was quickly learning, carbs were the major problem.
The biggest problem for me was 'What do I eat'? What food do I buy? What should I keep in the pantry? These recipe books have a great introduction section explaining everything you need to do.
If you're ready to get your health back and keep you weight under control, model my low carb lifestyle with these great recipes.
When I was starting out, Low Carb recipes were hard to come by, and when I found them, they were really complicated and time consuming to prepare with dozens of ingredients.
I had tried so many free recipes, some of them just tasted awful and many used ingredients I wasn't familiar with.
So back to the internet I would go, to try something new.
It seemed like finding a faster, simpler solution was going to be impossible, then I came across Keto in 5. It was a game changer for me and can be for you too.
Let me tell you about more about it.
Are you tired of dieting and always being hungry? Are you looking to improve your health like I was?
Then you're going to love these simple, effective recipes for getting started with low carb fast!
Low-carb isn't a fad diet - it's a healthy lifestyle choice that has amazing health benefits. I've experienced it myself, I hope I can help you too.
Discover a better way to eat and nourish your body without deprivation and hunger.
My friends over at Tasteaholics have created a series of ecookbooks, in which each and every recipe can be made using only 5 ingredients. If that's not already useful, all the recipes are 5 grams of net carbs or fewer! Talk about a no-brainer.
You can choose 1 breakfast, 1 lunch and 1 dinner from their Keto in Five cookbooks and know you're under your daily carb limit for the day.
Each book contains 30 recipes all using just 5 ingredients. Every recipe is 5 grams of net carbs or fewer making them perfect for low carb eaters, even keto. Whether you're just starting your low carb journey or have been happily losing weight for a while, I'm sure you'll love these easy recipes!
I wish I had access to a resource like this when I was getting started on my low carb journey. There was a lot of hit and miss for me while searching for suitable meals to cook.
The beauty of these recipes is their simplicity – only 5 ingredients & 5 steps.
If you want to get started with low carb but don't know what to eat or what to buy, then these recipe books are the solution for you. Step-by-step, simple, and great value for money.
It makes it so much easier when your recipes are simple, with only a few ingredients. There's nothing worse than getting discouraged by complicated recipes before you even get started.
Each book contains 30 recipes
Only 5 ingredients each
Up to 5 grams of carbs (net)
Introduction with practical advice on what to keep in your pantry and what to throw out
A 365 day money back guarantee
You can get the whole bundle at a massive 40% discount or buy any of the books separately. That's massive value.
Here's a sneak peek of what's in the books:
Breakfast in Five
Breakfast is the most important meal of the day! Keep your carbs low and your taste buds happy with Breakfast in Five.
Enjoy pancakes, waffles, shakes, cereals and even hot pockets without breaking your carb limit!
My favourites are the Blueberry Pancakes and Chorizo Breakfast Bake. The Mini Quiches are great for breakfast on the run too.
Lunch in Five
Let's face it; lunch on low carb can get boring. Lunch in Five will serve up 30 packable recipes that will blow you away every time, like savoury French crepes, creamy chowders, and mouthwatering casseroles.
Alot of the recipes in this book could also be made for dinner if you want to expand your repertoire. I personally usually eat dinner leftovers for lunch so I use the recipes in this book for additional dinner ideas.
Dinner in Five
After a long day of work, cooking a delicious, healthy meal for your family can be a daunting task. With Dinner in Five, you'll enjoy steaks, wings, lasagna, burgers and sides without breaking your carb limit!
The Zesty Shrimp Skewers are great as a light meal in summer and I can't go past the Pork Chops in Mushroom Sauce or the Cheesy Meatballs. Delish!
Dessert in Five
Inside this book, there are so many delicious dessert recipes. You don't have to deprive your sweet tooth because you live low carb!
Enjoy chocolate soufflés, strawberry cheesecakes, brownies, coconut cream pies, raspberry Danish cookies and much more every day of the month. Living a low-carb lifestyle has never been more enjoyable and sustainable!
Buy the Bundle and SAVE
Buy the bundle of all four books, including Dessert in Five and get 40% off. Click the image below to claim the bundle.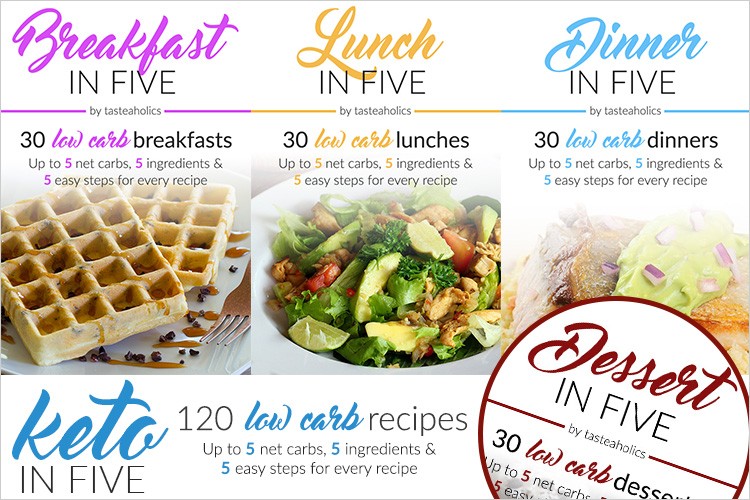 This post contains affiliate links, which means we may receive a small commission, at no cost to you, if you make a purchase through a link. Read our Disclosure